Good Morning in Hinterzarten- with a delicous breakfast for the late riser
We love late risers- hence we've designed the breakfast as the perfect start to your vacation. Delightful Liberty! Natural Geniality! We would like to bestow you with relaxation and enjoyment. This means you will have a restful sleep and start the day at your own pace. Therefore, you may enjoy breakfast from 8 a.m. to 12 p.m. every day! With all what you might need. Fresh fruit juice, croissants, Bircher Musli, and so much more to provide you with enough energy to enjoy all the activities and wellness area. By the way, we receive all bread and rolls fresh on a daily basis from our local bakery
It's your choice: sweet or savory. Yoghurts, fresh fruits, cheese from the region, eggs, and bacon...
Of course, we also like the early birds! And that is why we offer you a small pool breakfast at 7:30 a.m. in the Wellness Lounge.
Discover the Reppert Wellness & Spa Hotel in Hinterzarten

Schwarzwald Wellness & Spa Hotel 


✔  1.000 m² Wellness & Spa
✔  Various Treatments & Beauty
✔  Awarded in the Relax Guide 2017


Wellness & Spa
Offers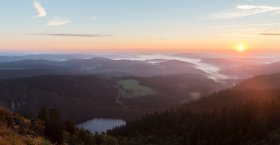 ACTIVE 
IN THE BLACK FOREST
Into nature!
Experience the unique nature and landscape. Become active and experience the most beautiful sites in the Black Forest.
Activities
Activity programm